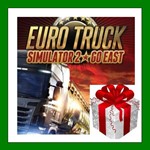 Euro Truck Simulator 2 - Going East DLC - Steam key - RU-CIS-UA

It is a DLC!!!

Warning: game can be activated only in one of the following countries: Russian Federation, Armenia, Azerbaijan, Belarus, Georgia, Kyrgyzstan, Kazakhstan, Republic of Moldova, Tajikistan, Turkmenistan, Ukraine and Uzbekistan.
14.03.2020 14:00:48
Все очень круто и цены отличные
Хочу подарок
20.09.2019 14:21:08
Only needed to change the steam store to Russia and everything worked as expected
01.09.2019 10:08:03
Всё получил моментально!
Продовец топчик!
Советую!
12.08.2019 17:38:10
Все Супер!
07.08.2019 23:11:44
+ активировалось