Content: kunelle_tabyn.zip (2.27 MB)
Uploaded: 21.03.2011

Positive responses: 4
Negative responses: 0

Sold: 37
Refunds: 0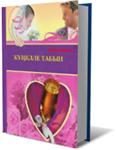 Tatar toast holiday scenario.


Toasts, poems and songs for the holidays, a wedding script, the script for anniversaries, parties, concerts - all in the Tatar language.


The book contains funny jokes, toasts, games and funny stories on a variety of tastes.

The book in the Tatar language, and will serve a good service to everyone who comes to visit, I would like to contribute to the overall fun and joyful mood.


The author - well-known comedian and entertainer, he worked as the master of ceremonies, and is an expert in this case. You receive an exclusive leadership of the Masters.


All scenarios, toast, congratulations, games, jokes to check on the feast - shoot your best !!!


And, of course, armed with this book, you can optionally take over the duties of honorary toastmaster, the true organizer and leader of the feast.


You are guaranteed success !!!


.


1. If you do not like our products, please write me an e-mail explaining why and I will return your money.


2. I will be happy if you leave a review on this product!


3. Marat Kabirov there are other books ...))
No feedback yet