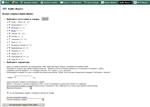 Modification (completion) for Shop-script premium "Exports in Bigmir Market"

The archive module files (php, the installation documentation).

After installation, you will be able to export goods to bigmir Market.

Modification 100% working. There are people whom I did the design and installation of this module!

The module is easy to install.

If you need this feature, but you do not want to wind up with this, I'll help you install it.


No feedback yet