Content: text (19 symbols)
Available: 18
Uploaded: 16.02.2020

Positive responses: 108
Negative responses: 0

Sold: 592
Refunds: 0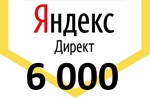 The most profitable promotional codes for saving on Yandex Direct. 75% off
The lowest price for a promotional code, found cheaper - write, we will make a discount.

The validity of the promotional code is until 02/20/2020

All promotional codes are verified and 100% working, replenished from the card and in other ways

Top up with 1500 + 300nds - you get the final balance of 6000 rubles (7200r with VAT)

ACTIVATION OF THE PROMODE:
1. Create a new account at direct.yandex.ru;
2. Import an advertising campaign with a domain that has not been advertised in Yandex.Direct for 365 days;
3. Wait until the campaign is moderated;
4. Create an account for 1500 RUB + 300 RUB VAT;
5. Activate the coupon;
6. Pay the bill.
17.02.2020 16:54:20
Все отлично как всегда!
16.02.2020 21:03:56
Все ок!
16.02.2020 19:54:28
Все отлично! Промокод рабочий.
16.02.2020 19:15:15
Спасибо! Очень быстро и просто. Все активировалось как написано
16.02.2020 18:33:35
Все супер! Работает!