Content: text (235 symbols)
Available: 60
Uploaded: 26.06.2020

Positive responses: 100
Negative responses: 0

Sold: 100
Refunds: 3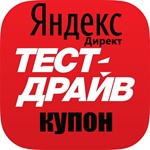 Added a special ACCOUNT (login and password) - under which a promotional code was issued. Using it, the risks of resetting the bonus by Yandex are reduced. You can use without it - at your discretion.
Format of delivery after purchase: Promotional code: login: password
The promotional code and account go separately - the promotional code itself is not driven in - you can use it on your account.
Checked - all the workers! Valid until 15.07
Cumulative discount up to 50%.
100% Valid. Guarantee.
With all the discounts, the price for the promo will be from 150 rubles (with such prices, these promos are the best on the market). For questions, write to any contacts from my profile.
By purchasing this product you agree to all the conditions described below.

We pay 3000 + 600nds (3600 with VAT) - Bonus from above 7000 + 1400nds (8400 with VAT) - On the balance of 10,000 rubles + 2000nds (12000 with VAT)
The validity period of the promotional code is until July 15, 2020, inclusively
Activation guarantee 72 hours. Under the warranty, only replacement is carried out - there is no return.


Unlike Google Adwords, MyTarget, VkTarget and Facebook in Yandex Direct, starting January 10, you need to use strictly 1 domain on 1 account - the domain for which you have activated the bonus

Instruction:
1) You need to create a new account on direct.yandex.ru or use the one that I issued with the promotional code.
2) Create a PK for a new domain and send it for moderation.
* There are risks of zeroing for a 301 redirect from 04/06/2020 *
COUPONS DO NOT WORK WITH SUBDOMAINS. WITH THE EDITOR. STRICTLY 1 NEW DOMAIN ON ACCOUNT. DOMAIN AFTER UPDATE DO NOT CHANGE.
1. You can buy a new domain at reg.ru/?rlink=reflink-49925 for 64 rubles in the .site zone

3) After passing the moderation, go to payment - pay 3000 + 600 rubles. and in the promotional code field activate the coupon

Constantly referring to a video recording with checking promotional codes - in real time, the robot checks the promotional codes and everything is recorded on the video. I guarantee that all loaded promotional codes are working - there is confirmation if necessary.
Verified activation codes - I upload only workers.
03.07.2020 11:52:28
Всё работает, спасибо)
30.06.2020 16:47:07
Вроде бы всё гуд)
30.06.2020 2:01:55
Все отлично
29.06.2020 12:57:54
все ок
29.06.2020 12:57:45
все ок