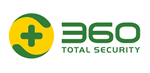 360 Total Security Premium is a modern and reliable anti-virus solution that will fully protect your device from viruses, encryptors, network worms, Trojans and other threats. You no longer need to worry when shopping online, chatting with friends, downloading files. 360 Total Security Premium will provide an unprecedented level of computer security, help you adjust optimal performance, clean your PC of "junk", use the built-in VPN, and allow you to forget about intrusive advertising.

After payment you will instantly receive a 25-digit program activation code.
The license validity period is counted from the moment of first activation of the code.
09.01.2021 18:42:14
Благодарю все супер!!!!!!!!!!!!!!!!!
20.10.2020 17:15:23
Superb seller 10/10
03.10.2020 22:24:43
Отлично ключ рабочий, купил 04.10.2020г. на один год!
11.09.2020 16:02:58
неделю потестировал бесплатный. решил купить на год. всё активировалось. спасибо.
09.09.2020 23:16:54
Сработало моментально после оплаты.+++