Content: text (121 symbols)
Available: 3
Uploaded: 02.03.2023

Positive responses: 10
Negative responses: 0

Sold: 299
Refunds: 1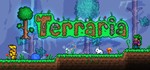 https://store.steampowered.com/app/105600/Terraria/
This is a Region Free version of the Game without any restrictions (ROW/Region Free)
Dig, Fight, Explore, Build: The very world is at your fingertips as you fight for survival, fortune, and glory. Will you delve deep into cavernous expanses in search of treasure and raw materials with which to craft ever-evolving gear, machinery, and aesthetics? Perhaps you will choose instead to seek out ever-greater foes to test your mettle in combat? Maybe you will decide to construct your own city to house the host of mysterious allies you may encounter along your travels?
After payment you will receive a digital version of the game
Instructions to activate the game:
1. Log in to your account Steam in your browser.
2. Go to the download link.
3. Accept a gift.
4. Add it to the library in Steam.
13.03.2023 23:34:01
Друг активировал, всё хорошо
12.03.2023 13:41:15
Всё чётко
22.09.2022 16:27:18
спс, всё гифт получил...
31.01.2022 16:52:10
it just works
27.09.2021 20:32:29
Все как указано, терку получил