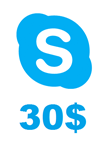 replenish Skype in the amount of 30 Usd.
Write to the operator in the chat, he will help you, answer your questions.
Money transfer is made manually by our operator!
(On your Skype account, the currency is automatically converted by your region)HOW IT WORKS?
1. After payment you specify Skype login to replenish.
2. We send you a request for add-ons to contacts that you accept.
3. We transfer the paid amount to you, 30 USD.

THIS IS NOT A Voucher Replenishment !!! AFTER PAYMENT YOU WILL NOT RECEIVE ANY CODE !!!
 
ATTENTION! Recharge your balance It is not made instantly !!!
Please note that the transfer of funds is done manually and depends on the availability of the operator. Therefore, if you did not receive the transfer as quickly as you expected, please be patient.
17.10.2020 15:52:42
В течении 5 минут минут всё уже сработало. Спасибо
03.07.2020 20:59:42
как всегда все отличено и быстро
25.06.2020 22:52:26
Good seller. I will buy again for sure.
12.04.2020 16:24:23
Все получилось :)
27.10.2019 20:12:13
All is good.