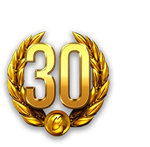 You buy the 30 days of premium account for World of Tanks.
Availability of Premium account allows you to rapidly develop in the game, providing an additional 50% to earnings credits and experience. Premium account is the same for World of Tanks, World of Warships and World of Warplanes, however, buying it for one game, you will automatically receive it in the other. A nice bonus premium account - a unique Hangar.
Warning! Premium Account only for RU region!
After payment, send private messages to your username in World of Tanks, and a unique code that will get after payment!
22.05.2020 20:49:11
works, thank you !
06.05.2020 20:24:58
Товар получил
08.01.2020 10:28:20
Все пришло +
02.09.2018 21:04:59
отлично