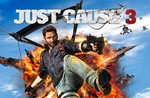 ++++++++
GIFT:
++++++++

Every second buyer (in random order) of all our products leave positive feedback - receive one of the more than 40 different games to Steam. What? This you will find out when you receive your gift in the mail.
It can be activated in the "Steam".

For a gift you must:
1) Buy our game
2) Leave a positive feedback with a comment "I want a gift," and specify it in your E-mail
3) Expect.

Gift Newsletter is done within 48 hours after writing a comment.
Attention!! Gambling Review - You warrant that you have read all the conditions for a gift, and if something is not clear - ask.

***************
Russian language
Platform: PC
Activation: Steam
Regional restrictions: Russia, Ukraine and CIS

***************

Mediterranean republic Medici suffers under the yoke of brutal Di Ravello general, the dictator with excessive lust for power. Become Rico Rodriguez, a man of special talent, the only one capable to overthrow General.
You will find a more than 400 square miles of total freedom from the sky to the ground, and a huge arsenal of weapons, gadgets and different techniques. Get ready for the most inventive and explosive chaos in the world!

Features:
- Skydiving, BASE Jumping and free diving - explore the Mediterranean island with complete freedom in the vertical movement
- Thanks to a new wingsuit you can effectively glide through the air and swoop down on the enemy
- Use your harpoon and parachute to move faster, climb on buildings, transport and bind to steal a variety of objects to each other
- Arrange on a large-scale destruction of military bases, ports and prisons, police habitats and points of contact in order to overthrow a dictator
- Arm yourself with a vast arsenal of deadly weapons from shotguns to rocket launchers and anti-tank guns and air strikes
- A huge variety of different techniques to choose from, including boats, jets, helicopters, sports cars and superbikes
- Dozens of exciting missions and testing
- Support for online featuresdeliveryThis product is distributed through the digital distribution, represents the only pin and does not contain the packages and boxes. </ Delivery>
**************************************************
Do not miss hits, order from us))
https://freg.at/id/1512811
- Arma III 3
https://freg.at/id/1492405
- Battlefield 4
https://freg.at/id/1538480
- Company of Heroes 2
https://freg.at/id/1359479
- CS: Global Offensive
https://freg.at/id/1501834
- Dead Island Riptide
https://freg.at/id/1578299
- Final Fantasy XIV: A Realm Reborn
https://freg.at/id/1570359
- Mortal Kombat. Komplete Edition
https://freg.at/id/1570381
- Saints Row IV
https://freg.at/id/1564116
- Splinter Cell Blacklist Deluxe Edition
https://freg.at/id/1566043
- The Bureau: XCOM Declassified
https://freg.at/id/1566047
- Total War: Rome II
**************************************************
Instructions on how to activate Gift:
1. You need to download and install Steam
http://steampowered.com/about
(if not already installed)
2. Register your new account on Steam or go to an existing
3. obtained after the purchase link, copy and paste into your web browser, log in under your Steam account and take a gift to the library (to activate the account) or to add in inventory (a gift can be activated later, or someone to give)
4. After activating the game will appear in the list of games and you can download it from Steam (at the time of the official release of the game in Steam). The installation process (download) takes about 15-50 minutes (depending on your internet channel).
Gift activation instruction:
1. Download and install Steam
http://steampowered.com/about
(if not installed)
2. Create new Steam account or login to existing account
3. Copy and past direct link that you got into your browser, login to your Steam account and accept gift into your LIBRARY or INVENTORY
4. After activation game appear in your library and you can install and play it!
-------------------------------------------------- --------------
Dear customers!
We will be very grateful to positive reviews!
Thank you, Your GameCode.
All of our products on the page
https://freg.at/seller/145306
-------------------------------------------------- --------------
No feedback yet