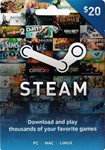 Dear customers!
After purchase you will immediately Receive a Photo image of Steam Wallet Card 20 USD key.
ATTENTION: Steam Wallet codes are restricted by currency - your account must be in USD.


Have fun!
How to Use:
Log in to your Steam account.
Click the [Your username]´s Account link in the upper right hand corner to be directed to your account details.
On the right hand side of your account details page there is a blue box that displays your current Wallet Balance.
Directly under the Wallet Balance, there is a link to add funds to your Steam Wallet
Link:
https://store.steampowered.com/account/redeemwalletcode
23.01.2021 10:47:15
Thank you
14.05.2019 13:18:34
++good
30.04.2019 20:52:27
(-_*)