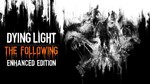 !! INSTANT DELIVERY IMMEDIATELY AFTER YOU CONFIRM PAYMENT !!

After paying for the order, the system will automatically (without our participation) instantly send you a link by mail to access the official activation key for the game Dying Light: Enhanced Edition

Activation: Steam
Region: Russia, Ukraine and CIS countries
Languages: Russian (interface and subtitles)

The composition of the publication:

Dying Light,
Dying Light Season Pass,
Dying Light - Crash Test Skin Pack,
Dying Light: The Following.

Horror stories about the invasion of zombies have flooded the industry for a very long time and still do not lose their charming appeal. To become a hero in the center of the apocalypse, dashingly bypass the infected and destroy the virus in all its manifestations is liked by everyone who is familiar or just getting acquainted with the genre.

Dying Light is one of its best representatives. All your wildest expectations and dreams will come true - because there are hungry mutants everywhere, and you will have to use all your potential to destroy them. But time is running out, the day is short and the night is long, so you have to improvise.

Outside the walls inside the city of Harran, a small branch of hell is raging. The dead and mutants terrorize the population, and the government makes awkward attempts to resolve the situation. Rumor has it that the Harrans have invented a vaccine capable of curing the infected. And in order to find out more about the enterprising inhabitants and bandits, an undercover agent is thrown into the very depths of the city.

What will become his death, and what will make him reconsider his decisions? Harran´s narrow streets stretch beneath his feet, with only homemade weapons and quick feet at his disposal. It´s time to learn parkour and explore. Until it got dark.

Key features of the game Dying Light:

Action-packed storyline. The longer the nights, the more dangerous it is on the streets, but the main character does not stop at the line of his fate. Before you is an open world, full of revived carrion and tasks. Cover huge distances quickly and easily, destroy zombies with choreography that is not limited by any boundaries. The seamless world invites daredevils to explore.

Don´t be alone. Breaking through the horde, scattering rotting meat, is best in the company of a hero as desperate as you, in a cooperative adventure. The quarantine zone is full of different creatures, and friends will help you in passing. Want to stand out from the crowd? Rich customization and variability will help you make your character unique.

Don´t go out at night. Or take a chance. As soon as the sun sets over Harran and all the lights go out, monstrous creatures creep out, whose power cannot be counted by any standards. The walks are over, now you are not a hunter, but a victim. Improve your skills and overcome new peaks - you will need everything that you collect during the day.
Activation:
- If you do not set the Steam client, download and install it
- Log in to your Steam account or register a new one if you do not already have it.
- Select "Activate via Steam ..." under "Games", or click "Add Game" in
the lower left corner of the application and select it "Activate via Steam ...».
- Enter activation key. After that the game will appear in the "Library" section, and you can download it.

System requirements
MINIMUM:
OS: Windows® 7 64-bit / Windows® 8 64-bit / Windows® 8.1 64-bit
Processor: Intel® Core ™ i5-2500 @ 3.3 GHz / AMD FX-8320 @ 3.5 GHz
Memory: 4 GB RAM DDR3
Hard Drive: 40 GB free space
Graphics: NVIDIA® GeForce® GTX 560 / AMD Radeon ™ HD 6870 (1GB VRAM)
DirectX®: Version 11
Sound: DirectX® compatible
Additional Notes: Laptop versions of graphics cards may work but are NOT officially supported.

Windows-compatible keyboard, mouse, optional controller
14.06.2021 17:22:14
Все быстро пришло
28.10.2020 22:30:04
Отлично