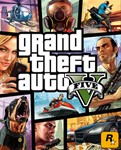 Grand Theft Auto V (aka GTA 5 or GTA V) is the fifteenth game in the Grand Theft Auto series, made in the genre of Action / Sandbox. For the first time in the history of the series, the game contains three main characters at once, between which you can switch almost at any time. The player is given complete freedom of action - he can travel around the city and its environs, rob passers-by, steal cars - or live a simple life of an ordinary person. Each of the characters has its own unique features - one can slow down time while traveling by car, the second can slow down time in shootings, and the third can become a crazy berserker, increasing the damage done to enemies.

The scene of Grand Theft Auto V was the fictional city of Los Santos, which first appeared in one of the previous games in the series - Grand Theft Auto: San Andreas. The game takes place in 2013, when former friends and bank robbers Trevor and Michael meet again. The main goal of the player is to enclose the US Federal Storage, taking with him more than two hundred million. On the way to this goal, friends will face many obstacles that will lead to one of three endings - which was not previously in any part of the series.
Instruction:
1. Download the EPICGAMES client
2. Install
3. We start and pass authorization under the received data
4. Download the game
5. We play
PROCESSOR: Intel Core i5-2500K / AMD FX-6300
CPU FREQUENCY: Info
RAM: 8 GB
OS: Windows 7 SP1
VIDEO CARD: Nvidia GeForce GTX 770 2GB / AMD Radeon R9 280
PIXEL SHADERS: 5.0
VERTEX SHADERS: 5.0
FREE DISK PLACE: 150 GB
ALLOCATED VIDEO MEMORY: 2048 MB
01.05.2020 17:44:14
Пока все неплохо, аккаунт удалось активировать с 1го раза. Появятся проблему отпишу.
27.04.2020 20:58:08
all good
23.04.2020 18:28:19
Продавец дал замену. Надеюсь проблем больше не будет!
20.04.2020 9:10:15
++ for this seller. You can trust =)