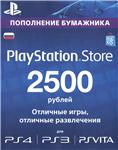 !!!!!!!!!!!!!!!!!!!!!! This code only for Russian accounts !!!!!!!!!!!!!!!!!!!!! !


You will receive immediately after the payment. INSTANTLY !!!!
++++++++++++++++++++++++++++++++++++++++
PlayStation Network - a separate independent platform with a variety of services and applications that the new year will be significantly expanded:

* Demos / videos of new games.
* Additional content that enhances the gaming experience - ons, maps, themes, new missions, artifacts, etc.
* Video, comics, other multimedia content.
* Dynamically expanding the main catalog of games for the PlayStation All publishers
* Exclusive Games PlayStation Network, including affordable games from the catalog MINIS.
************************************************** *******
"Expand your PSN wallet and get new games and content for your PS3 and PSP"
Face value of 1,000 rubles
instructions for use:
1. Create an account PlayStation Network (or use an existing one)
2. Visit the shop PlayStation STORE using the PS3 or PSP or program MEDIA Go for PSP on your PC.
3. Select the icon "Redeem Codes" in the "Showcase"
4. Enter the code consisting of 12 characters, and select "Continue"
5. Follow the prompts to activate your payment.

Note: When entering the code is case-sensitive.
: )
30.12.2019 21:48:36
Покупаю у Soft-Klub
30.12.2019 21:48:12
Покупаю у Soft-Klub
30.12.2019 17:35:44
Мгновенно) пришел ключ) покупаю у soft-klub!!!!
30.12.2019 15:21:59
все классно!! покупаю у soft-klub!!!!