Content: Steam-US-20-215_49.jpg (43.70 KB)
Available: 4
Uploaded: 05.03.2021

Positive responses: 354
Negative responses: 0

Sold: 3147
Refunds: 0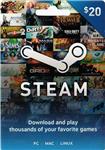 When buying this product, you get an activation code for the Steam Wallet for $20 (US dollars).
ATTENTION: Steam Wallet codes are restricted by currency - your account must be in USD.
🔑 INSTANT KEY DELIVERY. You will receive the key to the screen immediately after payment. It can also be viewed on
http://www.oplata.info
💥 WHY IGROSHOP.com❓
✔ Over 17 years of successful selling on Plati
✔ More than 110,000 happy customers!
✔ Merchant passport since 2002, BUSINESS LEVEL (BL) more than 1650!
✔ 15+ thousand of positive feedbacks and counting
✔ Vast experience with new games releases
✔ Cumulative discounts
✔ Support in English available
20.03.2021 9:09:59
По не внимательности купил гифт код для USA, продавец вошёл в моё положение "по моей ошибки" перепродал ключ и выдал мне другие, продавца рекомендую.
10.02.2021 7:22:31
Много лет покупаю коды у этого продавца. Все супер, как всегда.