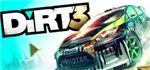 Get ready for DiRT 3! Promchites through the snow, rain and dirt and experience dramatic night races with the most rally content in the series of games.


Express yourself in the stunning new regime «Gymkhana», inspired by the incredible free driving Ken Block, and upload your best travel directly to YouTube! Compete on religious rally cars representing the sport for 50 years, from the classic Audi Quattro to released in 2011 Ford Fiesta WRC, and conquer in all game modes and full split-screen multiplayer. Compete as a professional rally star and enjoy intense racing across three continents - from wooded Michigan to the infamous roads of Finland and the national parks of Kenya.


Running on the award-winning EGO Engine engine from Codemasters, the game DiRT 3 includes flashbacks to rewind time and a realistic damage system. DiRT 3 - is completely off-road racing game.
23.04.2017 10:41:56
Спасибо
21.04.2017 22:55:38
Всё пришло! Спасибо продавцу!)))
20.04.2017 15:35:12
Спасибо )))))
10.04.2017 18:05:38
Спасибо Продавцу , товар пришел , все супер
09.03.2017 16:16:31
Спасибо большое . все отлично :)