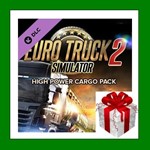 Euro Truck Simulator 2 - High Power Cargo Pack DLC - Steam Key - RU-CIS-UA

Warning: The game has territorial restrictions and can be activated only in one of the following countries: Russian Federation, Armenia, Azerbaijan, Belarus, Georgia, Kyrgyzstan, Kazakhstan, Republic of Moldova, Tajikistan, Turkmenistan, Ukraine and Uzbekistan.
30.04.2020 1:10:45
Не обманул продавец. Товар в точности совпадает с описания, ключ активировал
29.11.2019 21:01:01
Все супер всем советую. хочу подарок
29.08.2019 21:31:31
Всё отлично! Вот бы подарок!))
05.08.2019 14:14:25
Спасибо,после оплаты код сразу пришёл.
31.07.2019 12:23:40
Подарок.