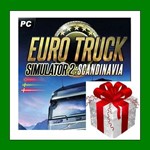 Euro Truck Simulator 2 Scandinavia - Steam Key - RU-CIS-UA

Warning: game can be activated only in one of the following countries: Russian Federation, Armenia, Azerbaijan, Belarus, Georgia, Kyrgyzstan, Kazakhstan, Republic of Moldova, Tajikistan, Turkmenistan, Ukraine and Uzbekistan.


02.02.2020 17:21:58
Оплатил получил - всё быстро!
09.01.2020 17:19:52
Отлично, все быстро пришло. Спасибо!
04.01.2020 10:57:01
Супер, очень быстро !
23.12.2019 19:15:10
Все отлично