Content: text (58 symbols)
Available: 59
Uploaded: 23.04.2012

Positive responses: 6
Negative responses: 0

Sold: 65
Refunds: 0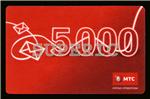 Code recharge MTS Uzbekistan for 5000 (5 th) sum
To activate the payment card you need to dial USSD-command *:
* 101 * <serial number> <map code> # and press the call key
or
send SMS-message to the number 900 with serial number and a code card, typed with no spaces.
The card can be used only once!
USSD-command can also be used with a negative balance
For more information visit
http://www.mts.uz
The serial number and the card code you receive immediately after payment.


If you have questions you can contact the seller, sellers' contact information section - information about the seller.


We will be happy if you leave a review about our service on the court.
No feedback yet