TMXC.ru
- URL shortener. Convert your long URLs to numbers.
l33t
- temporary mail without registration.
Content: text (10 symbols)
Available: 8
Uploaded: 20.04.2011

Positive responses: 0
Negative responses: 0

Sold: 0
Refunds: 0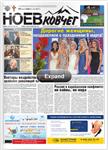 Semi-access Flash version of the newspaper "Noah's Ark" it represents the access password to the closed pages of the site. Semi-password after the first activation is valid for 185 days. The newspaper is published two times a month.
An example of a closed page:
http://www.noev-kovcheg.ru/digital/2011-05/
No feedback yet